Wednesday, January 11, 2012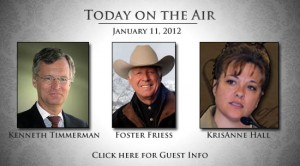 Kenneth R. Timmerman has spent his career investigating the dark side of national security.
Born in Rice Lake, Wisconsin in 1940, Foster Friess is a first-generation college graduate. His mother dropped out of school in the eighth grade to pick cotton in order to save the family farm in Texas. His father dealt cattle and horses.
KrisAnne Hall is a Constitutional attorney and former state prosecutor, fired after teaching the Constitution to TEA Party groups – she would not sacrifice liberty for a paycheck.
Podcast: Play in new window | Download